Branding your organization is easy through a sponsorship. This is a simple and effective way to increase your exporsure and show your support of your member-driven Juice Products Association. Sponsor an event today when you register for the meeting.
All JPA Annual Meeting Sponsors Receive the Following Benefits:
Your company's logo included in the Annual Meeting Pocket Agenda

Your company's logo included in the rolling PowerPoint displayed during each General Session

Your company's logo displayed on signage at the JPA registration desk and sponsored event

Your company's logo displayed on the Annual Meeting website and in marketing emails

Sponsor Level ribbons for each attendee from your company

More information about Platinum and Gold sponsorships are listed below at the bottom of this page.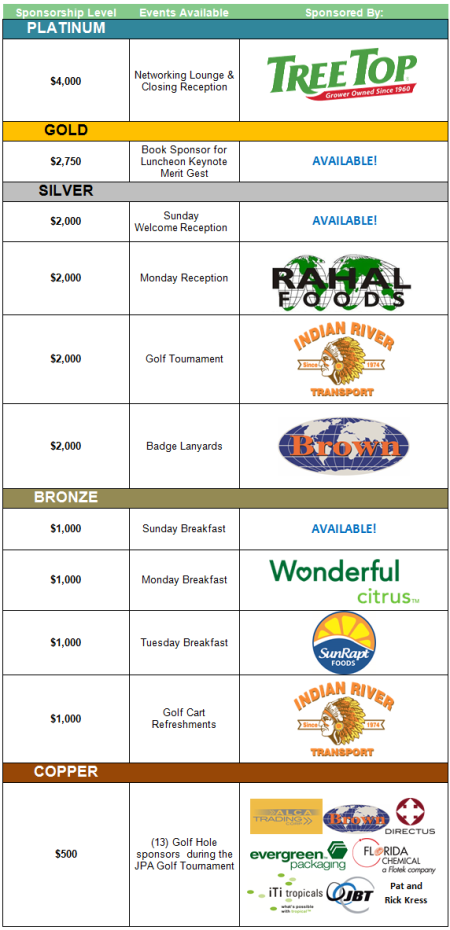 Platinum Sponsorship - Networking Lounge & Closing Reception
Great visibility for your company by supporting these headline events, combined in one sponsorship package. Your company's logo will be posted throughout these two events. The Networking Lounge will include your logo on large signage outside the room, on beverage napkins and on the screensaver of a laptop for attendees' use. If you have additional branded giveaway items you would like to make available, these can be offered in the lounge, as well.
Gold Sponsorship - Book Sponsor for Luncheon Keynote Merit Gest
Fee covers 250 books plus shipping to conference location. Merit signs & distributes books at a table set up for the sponsor and gets the sponsor's message directly into everyone's hands. Sponsor introduces Merit at start of presentation. Merit thanks the sponsor for their generosity on stage. Your logo and support present at this event.
Please contact JPA Staff at 202-591-2438 or jpa@kellencompany.com if you have any questions. All sponsorships are available on a first come, first served basis. These guidelines ensure equity and a level playing field for all JPA members.
Thank You to Our Sponsors