Spouse & Companion Program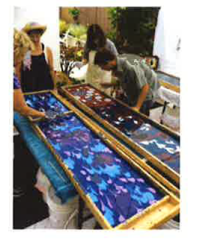 You design it. . . you create it. .. one of a kind. Utilizing modern, eco-friendly and upcycled materials, we bring the beautiful, ancient art of water marbling to the 21 st century. Onlookers crowd around to watch "designers" of all ages and abilities make their own one-of-a-kind handmade water-marbled silk scarves. Each artist applies acrylic paint to the special water bath, floating the colors in our custom-built water marbling trays, then uses marbling combs, rakes, or stylus to create the design to their liking. It is a true "WOW" moment when the finished scarf is held up for all to see!
To register, please click here
Golf Tournament
Spouses are welcome to participate in the Golf Tournament. They must be registered during the JPA delegate's registration process. Visit our Golf page for more details.
Thank You to Our Sponsors